Raw Cacao & Orange Bites
Snacking can be a bit of an issue, with many falling down by reaching for the unhealthy option. There are a lot of 'healthy' snacks on the market whether they claim to be; one of your 5 a day, low in fat, or low in sugar or maybe gluten free. To be honest it can be confusing. Firstly there are a lot of easy healthy snacks that can be made at home like crudités, fruit and nuts for example. But what about the sweet treats….enter Raw Cacao & Orange Bites.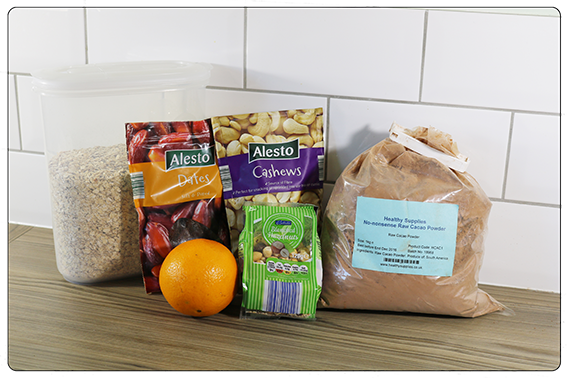 With a lot of raw, fruit based snacks it is always good to be aware of the natural sugar content as you don't want it to be really high. Also notice the amount of protein and fibre as they will help to stabilise blood sugar levels. I have adapted these bites to be higher in protein and fibre as shown in the table below.
These Cacao & Orange Bites are made to be a little on the go snack or when you want something a little different. This recipe makes about 17/18 and can be kept in the fridge all week. They can also be frozen so one batch could last a couple of weeks depending on how many you have in your family. Portion size is one – they are not designed to be eaten in multiples. Sorry to be boring, but everything in moderation right 😉
I find with any new recipe, the first time you follow it, it seems complicated and takes time.  If you do something a couple of times though it becomes 2nd nature and you begin to change your thought pattern about making things from scratch. With these bites you measure out, blitz and portion into 25g balls. It becomes something you can quickly do whilst dinner is in the oven or on a Sunday afternoon. The most annoying thing is washing up the mixer but no pain no gain!
Nutrition
These bites are high in potassium from the oats, hazelnuts and cashew nuts. Dates provide vitamin A and cashew nuts provide vitamin K.
Per 25g portion (ball): Kcal: 73, Protein: 3g, Fat: 4g, Sugar: 4g, Fibre: 2g
Ingredients:
150g oats
100g dates
20g raw cacao powder
50g blanched hazelnuts
50g raw cashew nuts
juice and zest of 1 orange
Method:
Blitz the nuts, oats and cacao together
Add the dates zest and fresh juice from the orange and blitz
If the mixture is too dry add a splash of water
Portion out into 25g and roll into balls
Keep in the fridge for weekday snacks / you can freeze half for next week