I'm lucky because I enjoy to cook but it wasn't cooking that got me into nutrition…it was more the changes within my body when I made some dietary changes (nearly 10 years ago now!) that made me wake up to nutrition. Things are changing for a lot more of us, there was a time when we thought much less about the effects of what we were putting into our bodies, and there are still many people who really underestimate what small changes can actually do. Changes don't have to be dramatic, and they don't have to be hard – whether it is swapping a food item for a healthier choice, going to bed 30 mins earlier to help you feel more refreshed or adding in more veg to your meals.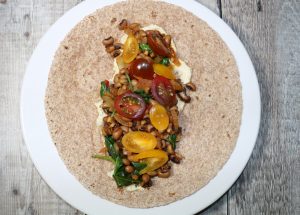 Here is a lunch idea, as I find many people find lunches hard to navigate especially in their busy lives.  This is actually something that can be upscaled for a dinner as well, as you can pair with rice or adapted for a super nutritious and filling breakfast. I learnt to cook from my mother and although I do follow recipes I am also an intuitive cook. Sometimes the best meals are when I look in my cupboards and fridge and see what I can make.
This is a simple Black Eyed Bean Wrap: Black eyed beans are a good source of resistant starch so they zip through the digestive system and arrive in the lower digestive tract. This means the starch is not converted into simple sugars so a 'quick rise' is avoided and our insulin response avoids any abrupt increase – as such they are low on the glycemic index.
I mixed pre-cooked beans with sautéed onions, mushrooms, spinach, garlic, paprika and fresh chilli – sea salt and cracked black pepper to taste. I added a little water so the mixture didn't become too dry. My wholemeal wrap was spread with some hummus, then I added the mixture and some fresh heritage tomatoes to finish.  It's a great way to get lots of veg in for your lunch and it is warming on these cold days. It can be pre-made the night before which is also a bonus…and it doesn't break the bank.
You could also try different beans, adding peppers, aubergines…whatever you do or don't fancy the list is really endless –  just have a play!